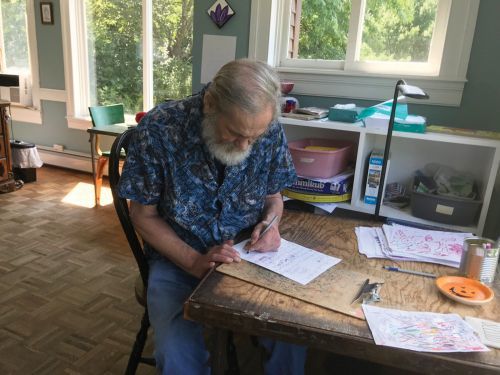 MIDDLEBURY – The first open show of 72-year-old Bob Crosby's art went up at the Ilsley Library on Sept. 1 and will be on view through the end of the month.
"I'm excited…I want to do something good for people," Crosby said.
His medium is both out of the norm and as accessible as can be.
Crosby's hands are not stained with paint, but with Crayola markers.
Originally from Brattleboro, Crosby took his first art class in 1970. Now, the Salisbury artist spends a lot of his time at a desk by a window, drawing and writing.
"I feel more pleasure (when drawing and writing)," he said.
He starts with the outline – bold and dark in black and brown. His drawings feature houses and cars as well as faces, which he fills out in all sorts of colors and shapes.
"I like different colors... I try to make a good design," he said.
The details are hard, but Crosby doesn't give up easily.
"'Frustrated' is not a word I worry about," he said.
Crosby also sings songs he writes, often while he draws. In addition to song lyrics — "they're good ones, too," he said — Crosby writes fairytales, stories and poetry.
And each piece of work is dedicated to someone.
All of his drawings and writings — including those that will be available to the public at the library — bear a direct address.
One image of a blue, brown and red face, for example, reads "To Skye, from Bob Crosby." His pieces are for his relatives, friends, caretakers and anyone who is around on a given day.
"I'm drawing you a picture right now," he said when I went to interview him.
He also marks each piece with the date.
Crosby's writings — also always "to" someone — are full of warmth, hope and simple words with big meanings.
A writing from Aug. 9 begins: "To go on living to have wisdom of heart to see Life can be all truly wise then we are very happy with all true Life..."
Crosby said he will continue drawing, writing and singing as long as he can.
"I enjoy it, it interests me and it makes me feel good inside just being here," he said.